With the election of Cris Carusi, Ali Muldrow and Ananda Mirilli, all seven Madison School Board seats will be held by women for the first time.
Carusi, Muldrow and Mirilli emerged victorious in their respective elections Tuesday for seats 3, 4 and 5 on the School Board. All three will hold seats currently held by men — Dean Loumos, James Howard and TJ Mertz.
"I'm sure it was an all-male board for many years at some point," former Madison School Board member Carol Carstensen said, in response to the results.
In a district where roughly 58 percent of students are nonwhite, the addition of Mirilli and Muldrow puts the board at three people of color. Gloria Reyes, who holds Seat 1, became the first Latina member of the School Board last year.
Here's what happened in each election.
Seat 3: Public education advocate Cris Carusi tops independent charter school founder Kaleem Caire 
Though the results were narrower than their primary matchup, Cris Carusi, a public education advocate and University of Wisconsin-Madison research director edged out One City Schools founder Kaleem Caire by just over four percentage points. Carusi received 51.9 percent of the vote with 100 percent of precincts reporting, while Caire received 47.6 percent.
"I'm feeling incredibly grateful to the voters, to everyone who supported this campaign and to my campaign team," Carusi said at an election watch party at the Great Dane's east-side location. "This was truly a team effort."
"We knew it was going to be close. There were a lot of people killing me on Facebook and social media, so we knew there are a lot of folks here that don't necessarily want to see change happen," Caire said. "But there were 32,000 people that do. So we looked at the numbers, and Cris ran a good race, but we felt good about what we did also. At the end of the day, it comes down to the will and desire of voters, and they're not willing to support me being on the board yet."
"I am honored that I got to run against Kaleem," Carusi said. "He ran a respectful race and I am deeply grateful to him for that. He's doing really good things in our community and I thank him for all he's done for Madison."
Caire ran nearly eight years after the Madison School Board rejected his proposal for another charter school, Madison Preparatory Academy, on a 5-2 vote. The school, which he had proposed while he was CEO of the Urban League of Greater Madison in 2011, originally would have been a school for black boys in sixth through 12th grades.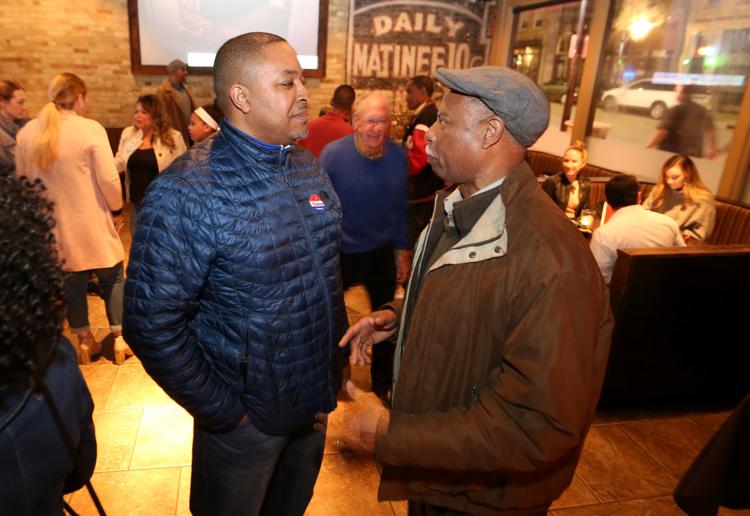 He first ran for Seat 4 on the School Board in 1998, where he received 45 percent of the vote in a loss to Ray Allen. Carusi ran unsuccessfully for School Board in 2017. 
Caire said he will continue to be active in Madison's education scene and will push for universal preschool in the city.
"I keep going; I don't stop," Caire said. "(The election) is not going to stop me from doing what it is that we need to do … there's a lot going on in the schools I feel I could help with, and I'll still try to help."
Carusi, who has touted her many years of attending School Board meetings and being a grassroots organizer, has staunchly opposed voucher schools and independent charter schools like One City. Her opposition to independent charter and voucher schools scored her the endorsement of Madison Teachers Inc., the local teachers union. 
"I'm looking forward to being able to bring all voices to the table and representing our whole community on the School Board," Carusi said.
Seat 4: Ali Muldrow cruises to victory against David Blaska
Ali Muldrow, the co-executive director of the Gay Straight Alliance for Safe Schools, won the Seat 4 election which pitted her against former Dane County Board member David Blaska. Muldrow received 69.3 percent of the vote to Blaska's 30.1 percent, with all precincts reporting. 
"I feel really proud of what we accomplished, and I'm ready to get to work," Muldrow said. 
Muldrow entered Tuesday as the heavy favorite, having received more votes than any other School Board candidate in the Feb. 19 primary and posting the top fundraising numbers last week. She first ran unsuccessfully for School Board in 2017. Muldrow and Seat 5 candidate Ananda Mirilli have run parallel campaigns, endorsing each other and often holding joint fundraising and other campaign events. 
Muldrow said she would focus on creating more safe and inclusive schools, as well as prioritizing funding for the arts. 
"We're going to unify our community to work together to do what's in the best interest of every child we serve," Muldrow said. "We're profoundly grateful for everyone who voted, everyone who showed up for this campaign, and we're proud to show this city that working collaboratively is inspiring and worthwhile. It's a good night."
For Blaska, the race was an uphill battle in the heavily liberal Madison. Blaska, a frequent blogger and political conservative, built his campaign by focusing primarily on student behavior issues and called for the continuation of a contract between the city and school district that keeps a police officer in the four conventional high schools. 
Blaska's campaign slogan of "because safer schools = a safer community," hammered his message that crimes around the city involving juveniles are directly related to behavior issues that aren't being handled by the Madison School District. His message, while not enough to win the general election, got him through the Feb. 19 primary that had narrowed the field for this race from four candidates to two. He also won several precincts in the La Follette High School attendance area, a part of the district where school safety has been a top concern following a string of gun-related incidents near the high school last fall. 
"It's going to get worse before it gets better," Blaska said.
Seat 5: Ananda Mirilli defeats incumbent TJ Mertz
Department of Public Instruction equity consultant Ananda Mirilli won the Seat 5 election over incumbent School Board member TJ Mertz. Mirilli finished with more than 38,000 votes, capturing 57.6 percent of the vote with all precincts reporting. Mertz finished with more than 27,000 votes, which was 41.8 percent of votes cast.
"I'm so happy and so grateful about how we ran this campaign, and the community responded," Mirilli said. "That was inspirational."
Mirilli and Muldrow held a combined election night watch party on Tuesday night at Robinia Courtyard. 
Mirilli, a single mother who was born in Brazil, has said her experience at DPI and MMSD has made her the best candidate to prioritize efforts to eliminate the district's stark racial achievement gap. She's vowed to work more collaboratively with Superintendent Jen Cheatham and the other six members on the School Board. 
"I think (the election results) mean that Madison is ready for something different and I hope it means that people will collaborate with us," Mirilli said. 
The election marks the end of a six-year tenure on the School Board for Mertz, who focused his re-election campaign on his work to make the district and School Board more transparent and accountable. He's called on the School Board to have more than the two regular committees it has in order to allow more work to be done in public view instead of behind closed doors at the Doyle Administration Building.
Mertz's frequent calls for transparency have often left him on his own during School Board meetings. 
"I am very proud that our campaign for Madison School Board was 100 percent positive and focused on the issues," Mertz's campaign said in a statement on Facebook. "While we ultimately fell a little short, I am forever grateful for the many new friends I made on the campaign trail and that so many neighbors placed their trust and confidence in me."
Mertz said he plans to remain active in the community following his time on the School Board.