DECATUR — Jordan Pochynok enjoyed his first Awesome Squad performance, a popular kids' show often seen at the Children's Museum of Illinois.
The 3-year-old had a good time touching his head, shoulders, knees and toes, right along with the musicians in the bright red and green shirts at the museum on Friday.
"I liked all of it," Jordan said.
The musicians are having a good time, too, but the Awesome Squad duo of Michael Scherer and Zach Garrett, take their job seriously. Their mission: to inspire and entertain children.
"And to learn something along the way," Garrett said.
The duo perform for young crowds, generally ages 4 to 8, throughout the area, along with their grownups. They have a special set for infants and toddlers, too.
At 2 years old, Anaya Joseph did what Garrett and Scherer expected she would do. The little girl was pounding on the plastic containers before the show began. Her attention would wander to another part of the area, but after a short time, she would return to dance and sing along with the other kids.
"She is not really into group activities right now," said her mother, Sabrina Joseph. "She enjoyed the drums a lot, but then she was done."
Jojo Birschbach brought her 3-year-old, Lucas, to the Awesome Squad show on Friday.
"He really liked it, but he was a little bit shy," she said.
The Awesome Squad knew what to expect from the toddlers, and encouraged them whenever they could.
"She's 2," Scherer said of Anaya.
During the development of the Awesome Squad, Scherer and Garrett researched childhood development so they could understand what helps children learn, including tempos and pitches and at what ages. For example, infants enjoy slower songs, but will learn a lot in their first year of life.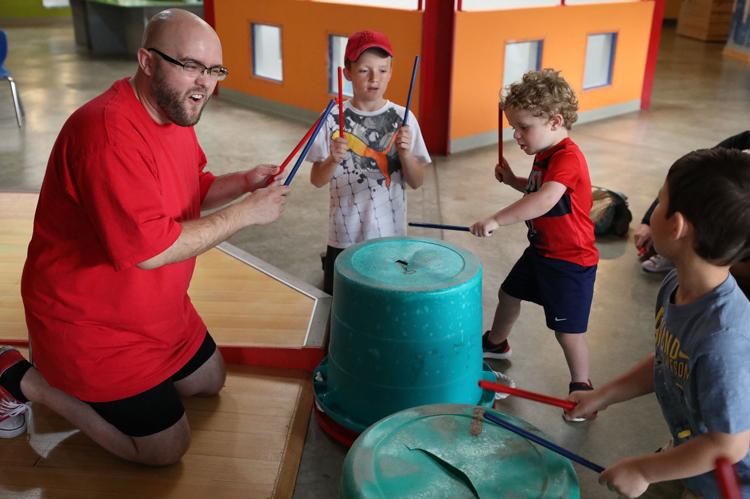 "Their brains are little sponges," Garrett said.
As professional musicians, Scherer and Garrett knew they could use creativity to spark learning and imagination. They perform in various bands and are co-owners of a recording studio and production company. They knew they could create music that was child-friendly as well as educational.
When Scherer first became a father more than three years ago, he searched for music his daughter could listen to.
"I was finding music I couldn't stand," he said. "It was all cheesy, or the words were inappropriate."
Scherer understands the influence music has on society, especially children, so he encouraged Garrett, a fellow musician and father, to create the Awesome Squad.
The duo found the music that was most available to children was Kidz Bop, a music brand has kids singing popular music with more child-appropriate lyrics.
"But kids were smart enough to figure out they just changed the words," Garrett said.
Garrett and Scherer decided to create their own sound and songs. They contacted the Children's Museum of Illinois, Baby TALK and other organizations to brainstorm what to do to stimulate young minds. The music started as a folk style, but it slowly formed into music the children could get involved in.
"They are all high energy, something you don't want to play before nap time," Scherer said.
Sung in a variety of styles, topics include exercise, listen to your parents and stay in school.
"The Awesome Squad is just that, they are awesome," said Abby Koester, Children's Museum of Illinois director of education. "They are great at interacting and engaging the kids. They get them excited."
During performances, Koester has joined Awesome Squad while they jump, dance, sing and play musical instruments with the kids.
"They do a really good job in getting them excited," Koester said.
Although Scherer and Garrett have performed together for many years, their children's band was formed only two years ago.
The two said they have seen a positive response among parents and teachers, as well as children. Scherer and Garrett created a curriculum for educators to encourage a love of music.
They said they have been invited to share their creative process at education conferences. The curriculum encourages using music to help learning.
"We are teaching them songwriting," Scherer said. "The kids learn about teamwork, how to handle emotions, problem solving."
The curriculum changes for each age group. With younger grade schoolers, the duo may encourage a love of music, "so they can get involved in band," Garrett said.
For the older students, they study what the kids are working on, learning and struggling with and create their own music.
"When they get it in their minds, testing goes up, their comprehension goes up, and their passion for those subjects do too," Scherer said on their promotional video. "We break down those walls that makes that subject more relatable, understandable and easy to remember."
Gavin Oyler, 10, helped his little brother Jordan dance and sing during Friday's Awesome Squad show, although the toddler didn't need any help.
Gavin said he learned something new as a musician during the show as well, although he has been playing the trombone for nearly three years.
"I learned piano means soft and forte means loud," he said.
Awesome Squad has already recorded three albums. One was titled, "I was Made to be Awesome."
"It's because we want them to stay that way," Garrett said.
Contact Donnette Beckett at (217) 421-6983. Follow her on Twitter: @donnettebHR